Prince William: I express my profound sorrow for slavery!
Speaking at a dinner hosted by the Governor General of Jamaica the Duke of Cambridge echoed remarks made by his father Prince Charles in November in Barbados, denouncing slavery. The Prince expressed his profound sorrow for the slave trade. He called it abhorrent and said it should never had happened. But according to CNN, he stopped short of apologizing for his family's historic role in the slave trade.

Britain was the most dominant between 1640 and 1807 when the British slave trade was abolished. It is estimated that Britain transported more than 3.1 million Africans (of whom 2.7 million arrived) to the British colonies in the Caribbean, North and South America and to other countries. Many argue that most if not all of the British wealth derived from the slave trade.
"I strongly agree with my father, the Prince of Wales, who said in Barbados last year that the appalling atrocity of slavery forever stains our history," William said.
"I want to express my profound sorrow. Slavery was abhorrent, and it should never have happened," he continued.
"While the pain runs deep, Jamaica continues to forge its future with determination, courage and fortitude. The strength and shared sense of purpose of the Jamaican people, represented in your flag and motto, celebrate an invincible spirit."
Prince William and his wife Kate are on a week-long tour of the Caribbean, visiting Belize, Jamaica and the Bahamas for a series of engagements to celebrate Queen Elizabeth's platinum jubilee year, marking 70 years on the throne.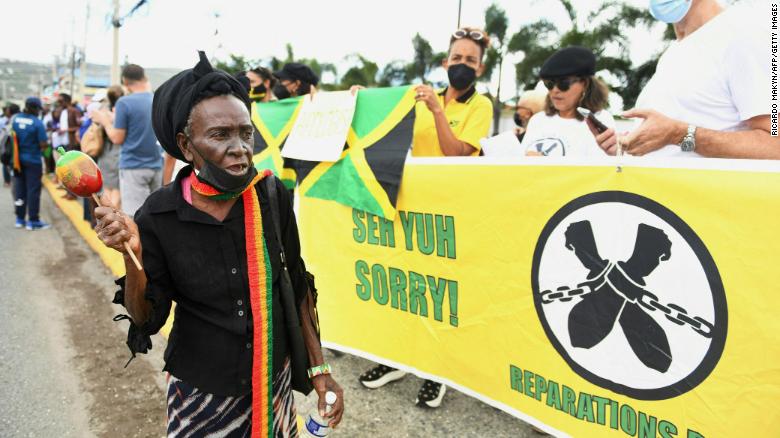 A coalition of Jamaican politicians, business leaders, doctors and musicians have signed an open letter demanding an apology from the British monarchy for colonialism and to pay slavery reparations.
At the protest on Tuesday, human rights activist Kay Osborne told Reuters: "It is an insult to use for these young people (the Duke and Duchess of Cambridge) to be here to try to persuade us to keep the status quo in place when our goal is to loosen and remove the hands, the gloved hands of the Queen from around our necks so that we can breathe."
The Prime Minister of Jamaica Andrew Holness says Jamaica will be moving on to becoming a Republic.
He said, in this our 60th year of Independence, we are very proud of our history and what we have so far achieved. However, we recognize that there is much more to be done to realize our true potential as a nation. I expressed to the Duke, that in this regard, it is inevitable that we will move towards becoming a republic in fulfillment of the will of the people of Jamaica and our ambitions of becoming an independent, developed and prosperous country.