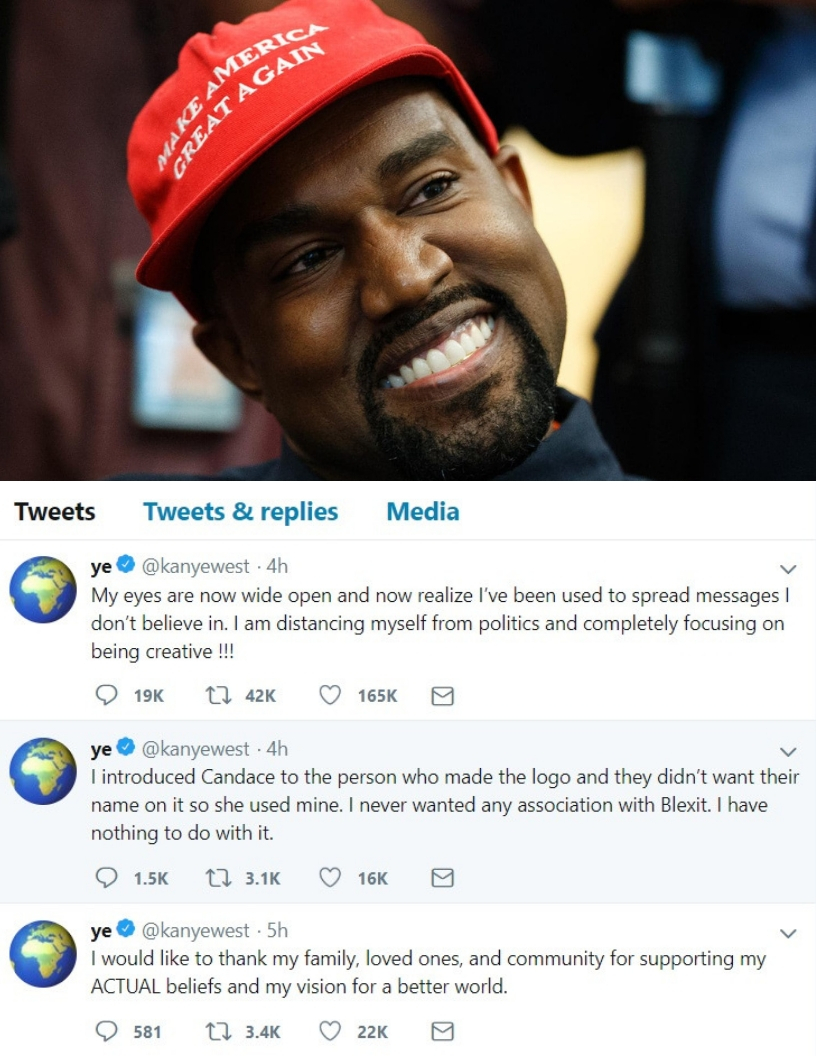 Kanye West fired off a series of tweets and one would think they are in the twilight zone.
Ye has been Trump's ride or die buddy for the past months. So it came as a shock to the world when he tweeted that he is been used and getting out of politics altogether.
According to TMZ, Kanye said he is referring to the Blexit T.Shirt that has been promoted by the black Republican activist Candace Owens.
Owens and West have been very close as the two have been in the media pushing the conservative narrative and riding the Trump train.
It all seem to come crashing down when West decided that he do not want to be associated with the Blexit  propaganda.
He said, "My eyes are now wide open and now realize I've been used to spread messages I don't believe in. I am distancing myself from politics and completely focusing on being creative."
He went on to explain: "I introduced Candace to the person who made the logo and they didn't want their name on it so she used mine. I never wanted any association with Blexit. I have nothing to do with it."
Owens had said, "Blexit [black exit from Democratic Party] is a renaissance and I'm blessed to say that this logo, these colors, were created by my dear friend and fellow superhero -- Kanye West." http://www.tmz.com/2018/10/30/kanye-west-donald-trump-used-blexit-candace-owens/?fbclid=IwAR1Ip9NBPOOznl5bNOJnlkLV1HNOeJXNA3YzC6uLjhveALELg9ZNPzII5As
It's unclear what prompted the sudden tweeting and why he decided to go public and if he is having problems with Owens. Nonetheless,  he outlined and made it clear his actual beliefs, claiming his recent beliefs are in conflict with Owens' and the Blexit propaganda.