Netanyahu agrees to cease-fire after China and The Squad pressure Biden
Israeli Prime Minister Benjamin Netanyahu on Thursday announced a cease-fire to halt an 11-day military bombardment on Gaza. The cease-fire comes after China presented raised a 4 points initiative in the United Nation. According to report, Egypt brokered deal which will start early on Friday.

China raised 4 points on UN over Israel-Palestine conflict Thursday:
1. Immediate ceasefire & protection of civilians.

2. No more illegal occupation of Palestine's territory.

3. Real efforts to prevent humanitarian disasters in Gaza.

4. Implementation of UN's two-state solution.
According to NPR, In a notable tarmac conversation on Tuesday May 18, Michigan Rep. Rashida Tlaib conveyed to President Biden her dissatisfaction with the United States' response to the bloody conflict between Israel and Hamas that has now entered its second week, her office says.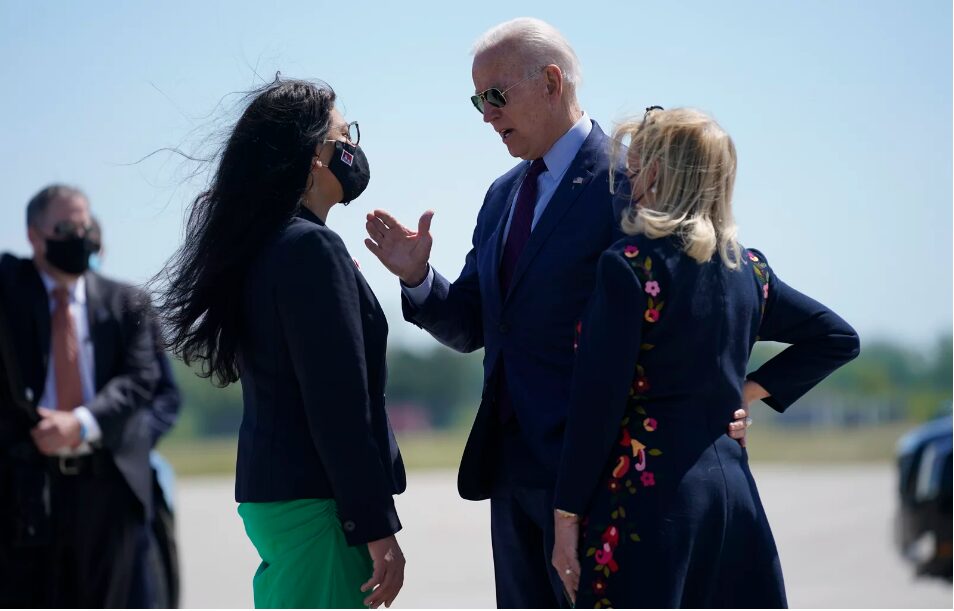 Tlaib, the first woman of Palestinian descent to serve in Congress, also told Biden that Palestinians must be protected, and she shared her harsh assessment of Israel's role in escalating the violence, an aide for the congresswoman's office said in a statement.
"Palestinian human rights are not a bargaining chip and must be protected, not negotiated," the aide said Tlaib expressed to Biden. "The U.S. cannot continue to give the right-wing [Israeli Prime Minister Benjamin] Netanyahu government billions each year to commit crimes against Palestinians. Atrocities like bombing schools cannot be tolerated, much less conducted with U.S.-supplied weapons."
It was reported this week that the United States is conducting an arms sale to Israel worth some $735 million — a deal that caught several Washington lawmakers off guard and prompted calls to halt the sale until a cease-fire is reached.
"Congresswoman Tlaib reiterated that the status quo is enabling more killing, that the current U.S. approach of unconditional support for the Israeli government is not working, and that the White House must do far more to protect Palestinian lives, dignity, and human rights," the aide said.
Their conversation came after Biden landed in Detroit on Tuesday, ahead of his visit to Ford's Rouge Electric Vehicle Center in nearby Dearborn and as global pressure mounts for Israel and Hamas to call a truce in their fighting ~NPR
A coalition of Democratic legislators made a last minute push to block an arms sale to Israel that would provide the embattled nation with a $737 million Boeing-manufactured arms guidance kit, which converts unguided or "dumb" bombs into precision-guided missiles.
Representative Alexandria Ocasio-Cortez (D-N.Y.) spearheaded the initiative alongside fellow members of the left-leaning "squad," including Representatives Rashida Tlaib (D-Mich.) and Ilhan Omar (D-Minn.), according to a draft resolution obtained by Politico.
The pressure from all sides said to have forced President Joe Biden to persuade the Israeli government to a cease-fire.
The 11-days bombardment of Palestine left hundreds dead. Gaza's Health Ministry says at least 230 Palestinians, including 65 children. They have no electricity, food or running water.
Egypt said it will assist with the rebuilding process of Gaza.
The Israelis say the rockets fired from Gaza have killed 12 people in Israel, including two children.