Millions around the world marched in support of Palestine
In cities across the globe, masses rally in support for Palestine.
Worldwide, large numbers of people flocked the streets, vociferously expressing their unity with Palestine as the conflict with Israel intensifies. Solidarity demonstrations were staged in multiple cities, demanding an end to the Israeli airstrikes on Gaza.
The US capital witnessed scenes of fervent protests, where thousands of pro-Palestine demonstrators convened, pacing past the presidential residence, echoing chants of "Palestine must be liberated". The grim circumstances of the Palestine-Israel conflict sparked similar protests in several American cities, Los Angeles, New York, and Dearborn, Michigan – a city renowned for housing one of the most substantial populations of Arabs and their descendants in the United States.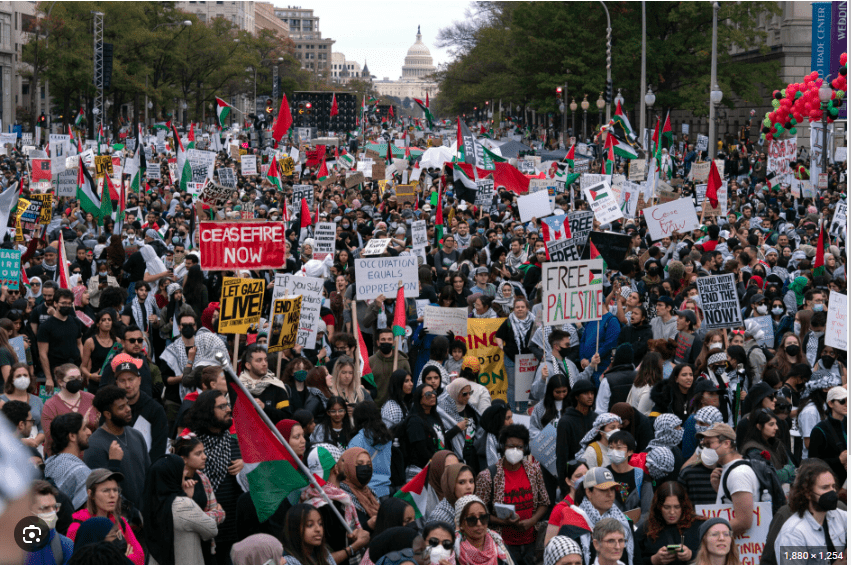 Meanwhile, in the United Kingdom, Manchester, Edinburgh, Glasgow, and the capital city, London, were the backdrop of demonstrations. Caution was expressed by the law enforcement authorities, with warnings of potential arrests for any public endorsements of the militant group, Hamas. As protesters traversed the bustling center of the capital, a substantial police presence.
Nevertheless, the City on London made history with one of he biggest demonstration since 2003.
Organisers say close to a million people marched on central London demanding a ceasefire in Palestine's Gaza, making it the largest pro-Palestine protest in UK history so far.
On Nov,11-2023 Londoners came out in their millions to call for a ceasefire.
The Pro-Palestinian demonstrators marched peacefully through central London on Saturday, even as right-wing counter-protesters clashed with police, after a week of angry debate over whether to permit the event on a day when Britain honored its war dead to commemorate Armistice Day events marking the end of World War I. A British military veteran told TRT World that calling for an armistice, a ceasefire on Armistice Day is 'absolutely appropriate', despite the UK government's objections.
Pro-Palestine marches were also reported in Geneva, Switzerland's capital, Turin in northwestern Italy, and Dublin, the capital of Ireland. In Rabat, Morocco, thousands rallied in support of the Palestinian cause.
In the heart of Europe, approximately a thousand law enforcement officers were dispatched in Berlin, Germany, to maintain peace amid the demonstration, as previous ones had escalated into violence. Stern rules were implemented, banning any form of antisemitic, anti-Israeli rhetoric, or language advocating violence or terror.
Strikingly similar scenes unfolded in Duesseldorf, Germany, with hundreds of thousands taking to the streets. Central Bucharest in Romania thousands marched, many waving flags symbolic of Palestine and chanting to stop the massacre of the children of Gaza.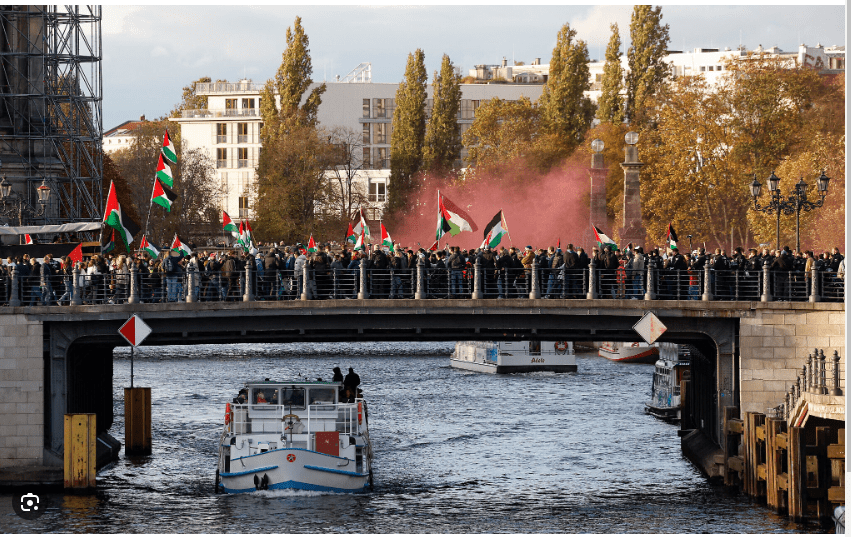 Italy bore witness to large scale demonstrations, with hundreds of thousands in Milan participating in the protests.
Egyptian football fans took over a stadium with love for Palestine. They say Egyptian people are not the government! Making it clear they do not support the lack of response from the Egyptian governments in regards to the massacre of children and civilians in Palestine
Similarly, many politicians around world have been speaking out against what they see as Israel an apartheid State is treat the Palestinian people like less than human.
Irish politician Clare Daly, "This is what we call with a straight face the only democracy in the Middle East."
Irish politician and European Parliament member, Clare Daly, criticised Europe's position regarding Israel's brutal war on Palestine's Gaza during a plenary session.
"This is what we call with a straight face the only democracy in the Middle East."
Indeed, numerous politicians from various corners of the globe have raised their voices against what they perceive as Israel's apartheid stance, treating the Palestinian populace as lesser beings. This growing awareness highlights the impassioned pleas of those advocating for an end to the appalling conditions faced by the Palestinians under Israel's oppressive regime.