COVID-19 Vaccinations May Be Required for Athletes and Fans to Attend Tokyo Olympics
International Olympic Committee President Thomas Bach have suggested that Athletes and Fans may be required to have the COVID-19 vaccine to Attend Tokyo Olympics. Bach made the announcement on Monday after meeting with new Prime Minister of Japan, Yoshihide Suga.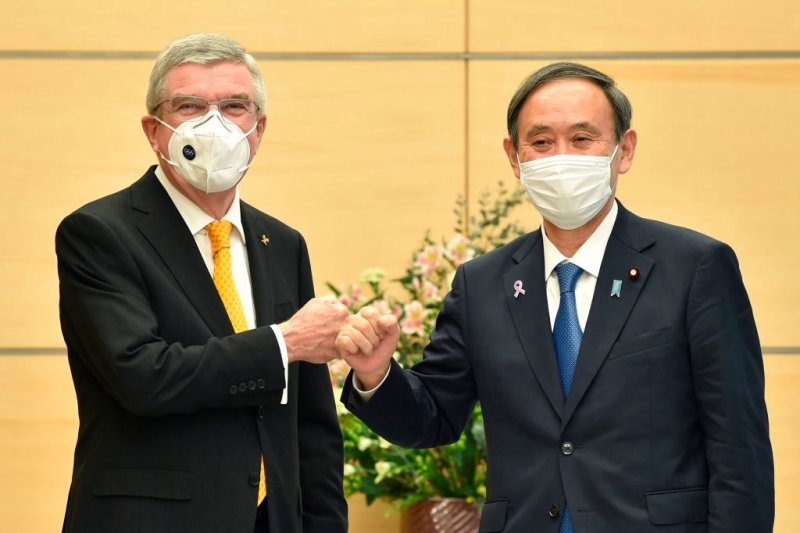 Japan's Prime Minister Yoshihide Suga (R) greets International Olympic Committee (IOC) president Thomas Bach (L) during their meeting in Tokyo on November 16, 2020. (Photo by Kazuhiro NOGI / POOL / AFP) (Photo by KAZUHIRO NOGI/POOL/AFP via Getty Images)
According to reports, it was Bach's first meeting with Suga and his first trip to Japan since the Olympics were postponed almost eight months ago.
"In order to protect the Japanese people and out of respect for the Japanese people, the IOC will undertake great effort so that as many (people) as possible – Olympic participants and visitors will arrive here (with a) vaccine if by then a vaccine is available," Bach said. "This makes us all very confident that we can have spectators in the Olympics stadium next year and that spectators will enjoy a safe environment."
Bach has two days of non-stop meetings and photo opportunities with politicians and organizers in Tokyo, aimed at persuading the Japanese public that it's safe to hold the Olympics during a pandemic.
The Olympics are to open on July 23, 2021.
Some athletes and fans from abroad are almost certain to oppose any vaccination requirement, which Bach has hinted previously could be almost mandatory for Olympic "solidarity."
This will definitely affect athletes from Jamaica and much is yet to seen if the vaccination becomes mandatory as many Jamaicans are against mandatory vaccination.
"Our determination is to realize the Tokyo Games next summer as proof that humanity has defeated the virus." Suga said.