Canadian Prime Minister Justin Trudeau announced split from Wife Sophie
On Wednesday August 2, 2023, the Canadian Prime Minister Justin Trudeau announced on his Instagram page and he and wife Sophie are separating. In the post Trudeau, wrote,
"Hi everyone, Sophie and I would like to share the fact that after many meaningful and difficult conversations, we have made the decision to separate," the post read.
"As always, we remain a close family with deep love and respect for each other and for everything we have built and will continue to build.
"For the well-being of our children, we ask that you respect our and their privacy. Thank you."
Trudeau, 51, and Sophie, 48, has been married for 18 years. Sophie and Justin Trudeau first met as children in Montreal and crossed paths again at a charity event in 2003, according to Vogue. They married in 2005 and have three children, two sons and a daughter. They share two sons named Xavier and Hadrien, as well as a daughter named Ella-Grace.
According to reports online, Trudeau's office said the former couple is taking the proper legal steps in their separation: "They have worked to ensure that all legal and ethical steps with regards to their decision to separate have been taken, and will continue to do so moving forward.
In June of this year, Sophie posted a photo on Instagram praising her then-husband in honor of Father's Day.
"This man could carry the love he has for his kids anywhere. Dads, never underestimate your role as mentors in your family for your sons and your daughters," she wrote.
Also this year, the prime minister called Sophie — and his own mother — "two of the strongest, bravest, and greatest people we know," in honor of Mother's Day.
So this comes as a surprise to the world that the two are separating.
Justin Trudeau has served as the Prime Minister of Canada since 2015 and was narrowly reelected in 2021 but the liberal politician, is not without scandal. He championed diversity, multiculturalism and acceptance throughout his time in office, has endured multiple racism scandals over the years. Most notably, on September 18, 2019, TIME published a photograph showing Trudeau wearing blackface make-up to an "Arabian Night's themed party at West Point Grey Academy. The photo was taken in 2001 and shows Trudeau dressed in a turban and robes with his face, neck, and arms darkened with makeup.
Trudeau also became very unpopular during the Pandemic, has under his leadership, Canada implemented some of the most harshest COVID mandates and restrictions, causing major demonstrations all around the country. The Prime Minister has also comes under fire for allowing men to play in women's sport.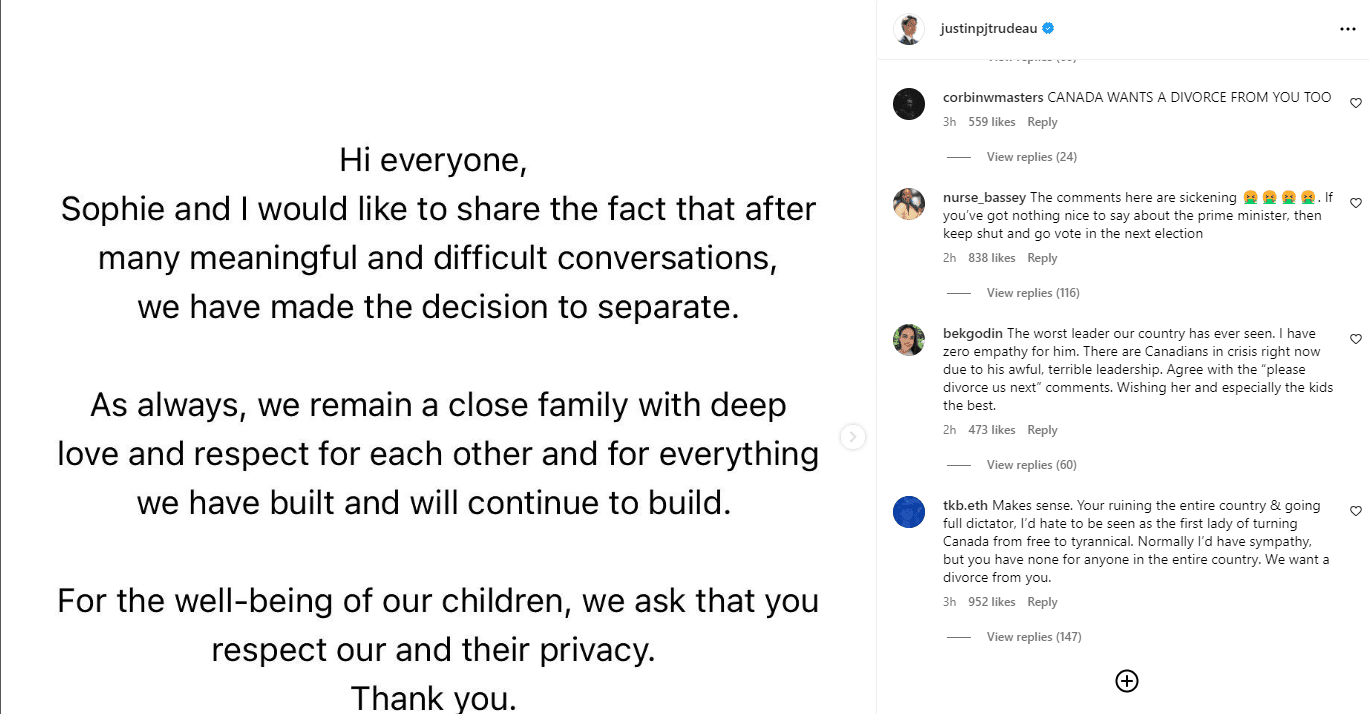 Many on social media are calling on Trudeau to resign.
"Seriously? Resign. NOW," one comment said.
bekgodin: The worst leader our country has ever seen. I have zero empathy for him. There are Canadians in crisis right now due to his awful, terrible leadership. Agree with the "please divorce us next" comments. Wishing her and especially the kids the best.
JUSTIN TRUDEAU APPEARED AT AN EVENT WITH BANDAGE ON HIS FOREHEAD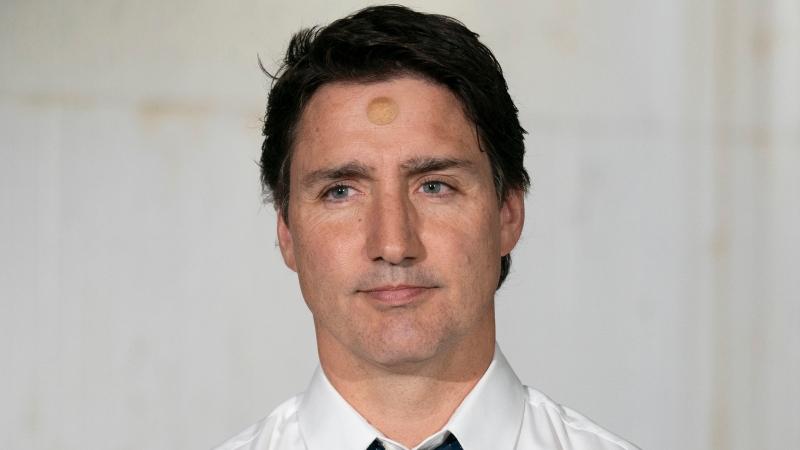 On Monday July 31, Justin Trudeau appeared at a news conference with a bandage in the middle of his forehead. A spokesperson for Trudeau says he bumped his head while he was playing with his kids over the weekend. Alison Murphy says the prime minister is fine, and is excited to be on the road connecting with Canadians this week.