A Somali sports official was suspended for nepotism on Wednesday after a viral video showed runner skipping across the finish line 
According to CNN, the video, which circulated widely on Wednesday, showed Nasro Abukar Ali competing in the third heat of the first round of the women's 100-meter race at the International University Sports Federation's (FISU) Summer World University Games in China.
In the video, you can see Nasro Abukar Ali looked at the athletes on both sides to learn how to get in the blocks. She then, laggardly came out of the blocks as the other runners quickly headed towards to the finish line. Nasra Abukar Ali, slowly made her way up to the finish line, then skipped across the line with no care in the world, as if she was having the time of her life
It was later reported that an outrage in Somalia after untrained Somali runner enters 100m sprint in athletics championship at the World University Games in China.
According to Chinese officials, Nasra Abukar Ali finished the first round sprint in 21.81 seconds– more than 8 seconds slower than the second-last runner, and more than 10 seconds behind the winner of the heat.
The video immediately made waves on social media, prompting ridicule, disbelief, and for some, anger.
"It's disheartening to witness such an incompetent government. How could they select an untrained girl to represent Somalia in running?" one person wrote on Twitter, now known as X, in a post with more than 47 million likes. "It's truly shocking and reflects poorly on our country internationally."
On Wednesday, the Ministry of Youth and Sports of Somalia said it had suspended Khadijo Aden Dahir, the chairwoman of the Somali Athletics Federation. It alleged Dahir had engaged in "acts of abuse of power, nepotism, and defaming the name of the nation in international arena," in a letter addressed to the Somali National Olympic Committee and tweeted by the ministry.
Somali Minster of Youth and Sports Mohamed Barre Mohamud said Ali was not a "sports person nor a runner." According to Forbes, Mohamud had earlier "apologized" for the incident in a Facebook video. "What happened today was not representative of the Somali people," he said in Somali, Forbes reported.
Though his letter referred to nepotism, no direct link was made between Dahir and Ali.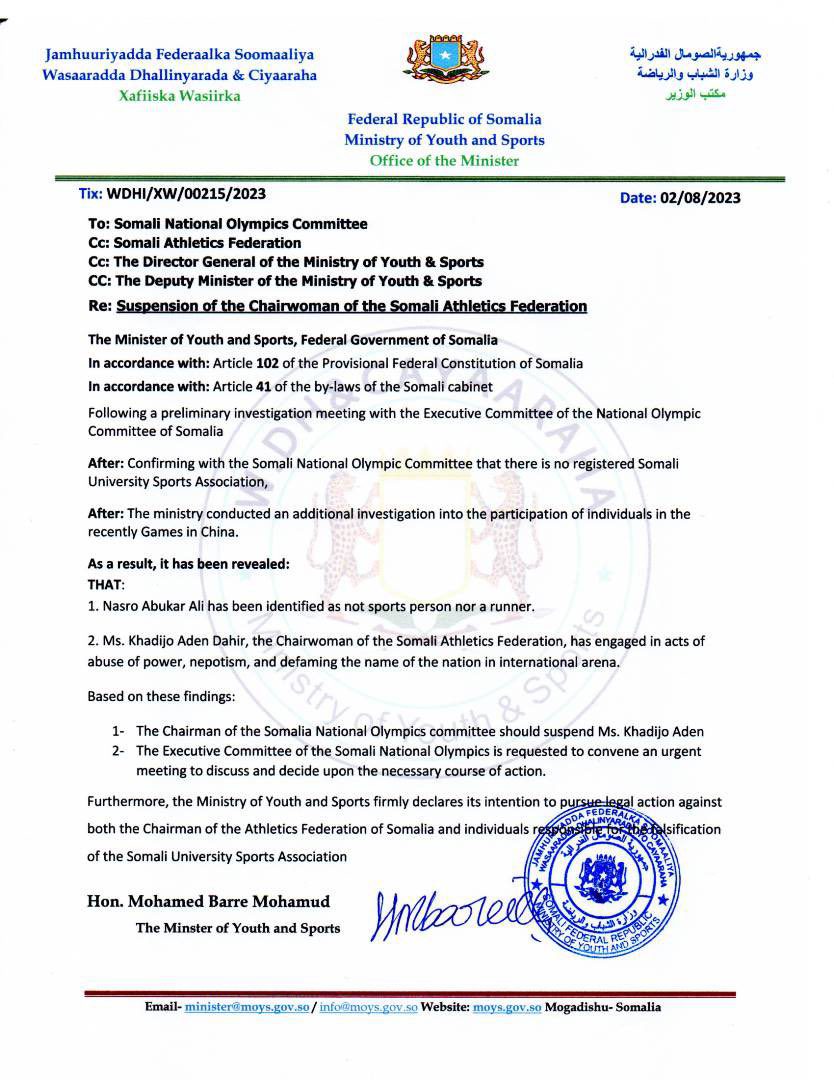 CNN, further stated that a released a statement on Tuesday saying, the Association of Somalia Universities had not sent any runners to the event.
In Wednesday's letter, the Ministry of Youth and Sports said an investigation found there was no "registered Somali University Sports Association," without elaborating on the association and its role in the competition.
The letter added that the ministry intends to "pursue legal action against both the Chairman of the Athletics Federation of Somalia and individuals responsible for falsification of the Somali University Sports Association."