Jamaica's Abstention in Gaza Ceasefire Vote: A New Low
In a recent United Nations General Assembly vote on a humanitarian truce in Gaza, Jamaica abstained from voting. The resolution, introduced by Jordan, aimed to protect civilians and uphold legal and humanitarian obligations amid hostilities between Israel and Gaza's Hamas rulers, which have resulted in thousands of lives lost. A total of 120 countries voted in favor, 14 against, and 45 abstained.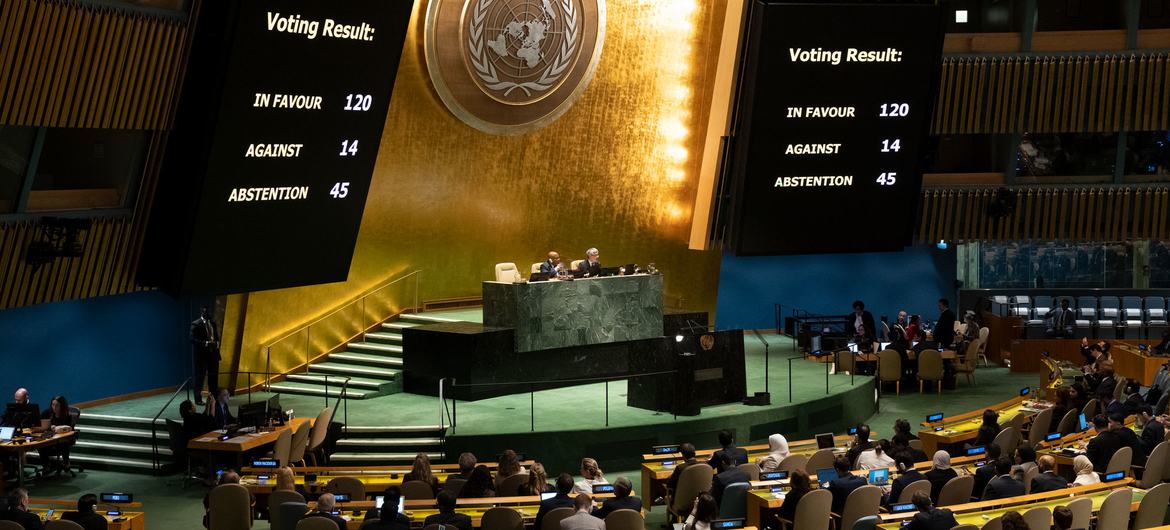 Jamaica's Foreign Affairs Minister explained that the abstention was due to consultations not concluding in time for the vote. However, the Opposition People's National Party (PNP) criticized this decision, calling it "a new low in Jamaican foreign policy history." According to the PNP, Jamaica's non-participation in supporting such an important resolution is inexcusable and gives the impression that the Government of Jamaica is not interested in standing in solidarity with the suffering Palestinian civilians.
As thousands of bodies pile up in the rubble of Gaza, majority which includes innocent civilians and children, many world leaders have decided Israel should cease their bombardment of Gaza.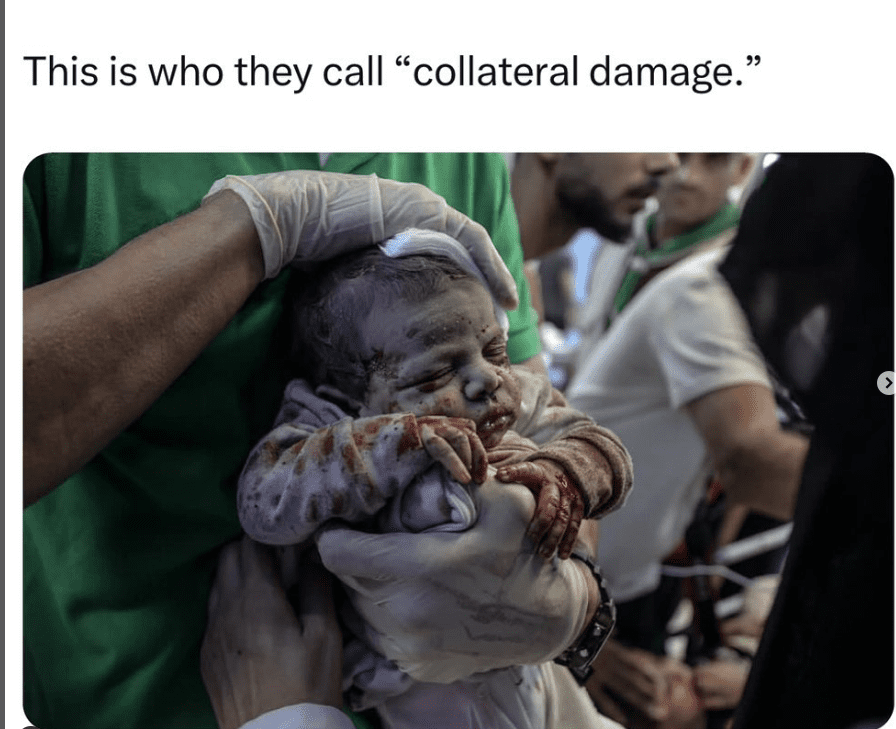 The PNP has urged the government to ensure that there is no recurrence of this major failure in foreign policy conduct and hopes that the impression of indifference towards the Palestinian people will be promptly addressed and dispelled. Jamaica's Abstention in Gaza Ceasefire Vote: A New Low —
Jamaica, a notable player in international diplomacy, recently displayed an unexpected stance in a critical United Nations Security Council vote concerning a ceasefire in Gaza. The Caribbean nation decided to abstain, which has caused a stir in political and societal arenas alike, pushing new boundaries in the country's foreign affairs.

As a nation with a history of advocating for human rights and peaceful coexistence, Jamaica's abstention seems atypical, sparking a flurry of reactions. The severity of the situation in Gaza, with the escalating conflicts and loss of innocent lives, makes this abstention even more significant.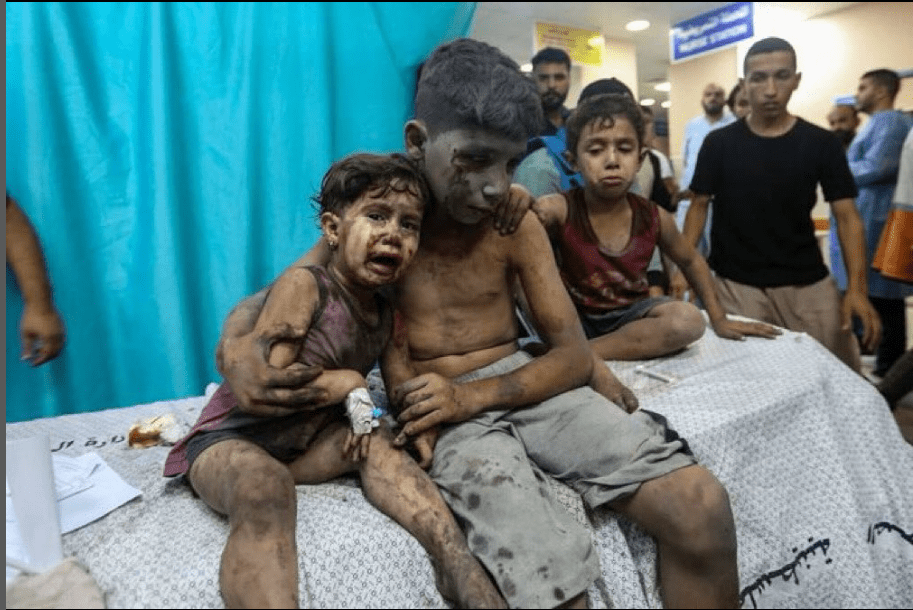 The PNP echoed the sentiment of millions of people around the world who have been demonstrating and and calling for a ceasefire. People are horrified that the thousands of babies, children, women and innocent civilians' who are left without, food, water, medicine and locked into a constant despair of bombardment of missiles coming at them.
Amid Increasingly Dire Humanitarian Situation in Gaza, Secretary-General Tells Security Council Hamas Attacks Cannot Justify Collective Punishment of Palestinian People
Speakers Stress Urgency of Protecting Civilians, Unrestricted Aid Delivery, Avoiding Regional Conflagration, in Day-Long Debate
The situation in the Middle East grows more dire by the hour, with the war in Gaza raging and risking spiralling throughout the region, United Nations Secretary-General António Guterres warned the Security Council today, calling for humanitarian aid without restrictions and an immediate ceasefire.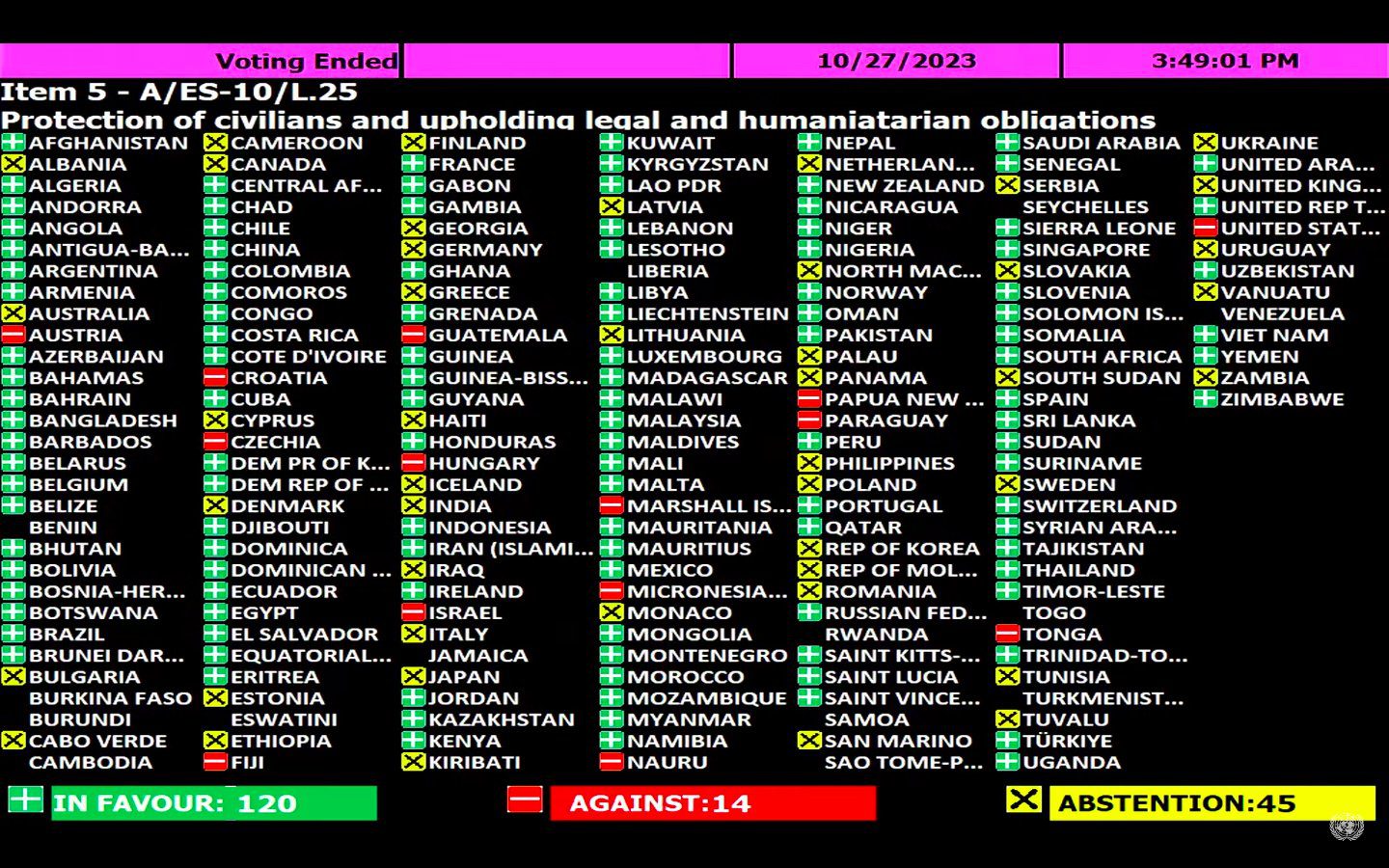 "At a crucial moment like this, it is vital to be clear on principles — starting with the fundamental principle of respecting and protecting civilians," Secretary-General Guterres said, during a day-long ministerial debate on the Palestinian question, amid an escalation of Israel's military offensive in Gaza. "Nothing can justify the deliberate killing, injuring and kidnapping of civilians — or the launching of rockets against civilian targets."
"Behind these walls", Guterres said, "we have 2 million people who are suffering enormously — that have no water, no food, no medicine, no fuel, that is under fire, that needs everything to survive and, on this side, we have seen so many trucks loaded with water, with fuel, with medicines, with food.
While every country has its own diplomatic concerns and imperatives translating into decision making, this recent abstention from Jamaica marks a departure from its usual approach in addressing international crises. This change in diplomatic posture may represent deeper implications for Jamaica's role on the global stage.
The reasons behind Jamaica's noticeable silence is clear. Jamaica Live reported Prime Minister Andrew Holness' quick response to Israel on Twitter, "The Government of Jamaica condemns in strongest terms the attack by the Hamas group on Israel, resulting in the deaths, injury and abduction of Israeli civilians. We convey our sympathies to the Government and people of Israel and to the families of all those affected. Jamaica firmly believes that the use of violence and terror has no place in international relations and should never be used against innocent civilians. We call for a cessation of hostilities, a return to peace within internationally agreed guidelines and the pursuit of diplomatic solutions."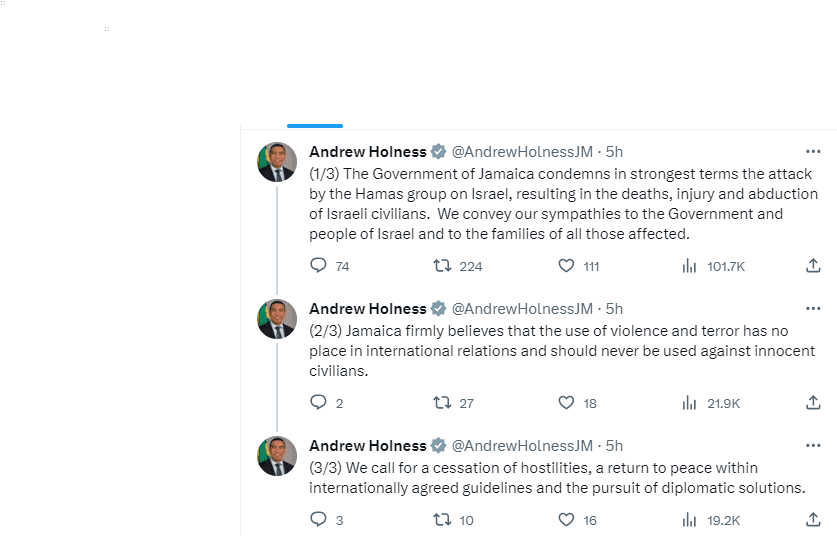 Holness' response was to a tweet by the Prime Minister of Israel, wrote in part, Dear citizens of Israel Hamas forces invaded the territory of israel this morning, in the morning of the holiday and Shabbat, and murdered innocent civilians, children and the elderly. Hamas has opened a cruel and evil war.
We'll win this war, but the price is heavy to bear. This is a very difficult day for all of us.
Despite this, what remains clear is that Jamaica's decision to abstain from the Gaza ceasefire vote will reshape discussions about its diplomatic standing, and likely provoke conversations around its ability to influence critical global issues.