Hundreds of people showed up at the Girl's Guides Headquarters on Waterloo Road, in Kingston, on Tuesday 21, in the hopes of attending a job fair said to be hosted by the Canadian Embassy.
Jamaica Live were contacted by a couple of people who said they have travelled from rural Jamaica after being lured of job opportunities by a flyer they received on WhatsApp.
The Job Fair flyer which announced "we are hiring", also have the Canadian flag with a cost of 2500 Jamaican dollar for registration. The flyer which list all the available job vacancies, seemed very legitimate to attendees who were left very upset, annoyed and let down.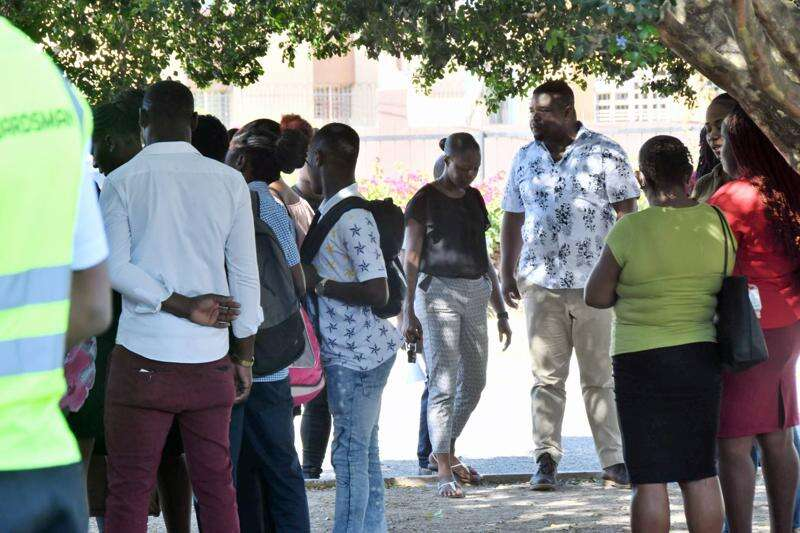 One person stated, her "neighbor left her house from 4: am for the job fair. She didn't go to work which means she lost a day's pay". Another says she travelled all the way from St Elizabeth.
The registration of the Job Fair was supposedly to have taken place in the Girl's Guides auditorium from 7:00 am to 5:00 pm at a cost of $2,500.
But according to the Jamaica Observer, a car auction was being held at the headquarters. The man, who was operating that function, said he was confused about people turning up for a job fair.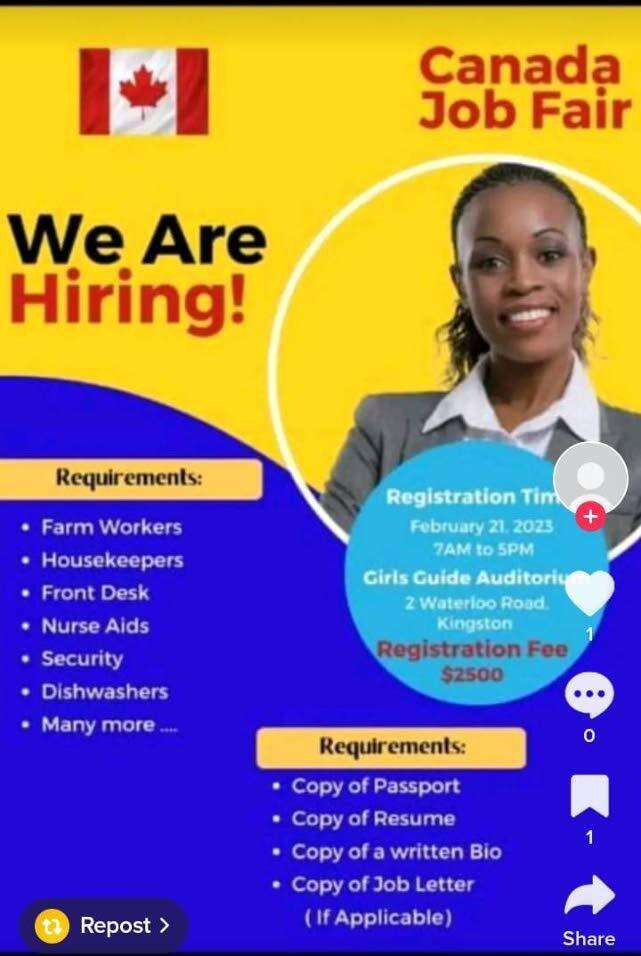 "I had the place booked for an auction from 8:30 am until 5:00 pm. At first when I came and saw the crowd, I was alarmed. As a matter of fact, I got a call that there was a clash here but when I called operators at Girl's Guides headquarters, they knew nothing about the job fair and said our auction is still on the books".
The Jamaica Observer indicated they contacted the Canadian High Commission in Kingston, a representative who answered the phone told the newspaper that there were no job fair being held as it does not host those functions. The representative also noted there were several calls made to the high commission querying about a Canadian job fair.
According to the Jamaica Observer, one man from St Catherine said after working at his current job for 16 years, he was looking forward to a better life in Canada.
"Going to Canada would be a better opportunity. I am disappointed. The best thing is that we didn't pay money to anybody. We got tricked. Why do people do these things? Misleading your own people is sad," the dispirited man said.