Shenseea Is Not Nominated For Four Grammy Awards
On November 23rd the GRAMMYS released the Nominations for their upcoming 64th Awards Nomination Ceremony.
The Best Reggae Album Category Nominees are Etana, Gramps Morgan, Sean Paul, Jesse Royal and Spice.
Shenseea was not named in the Nomination Category.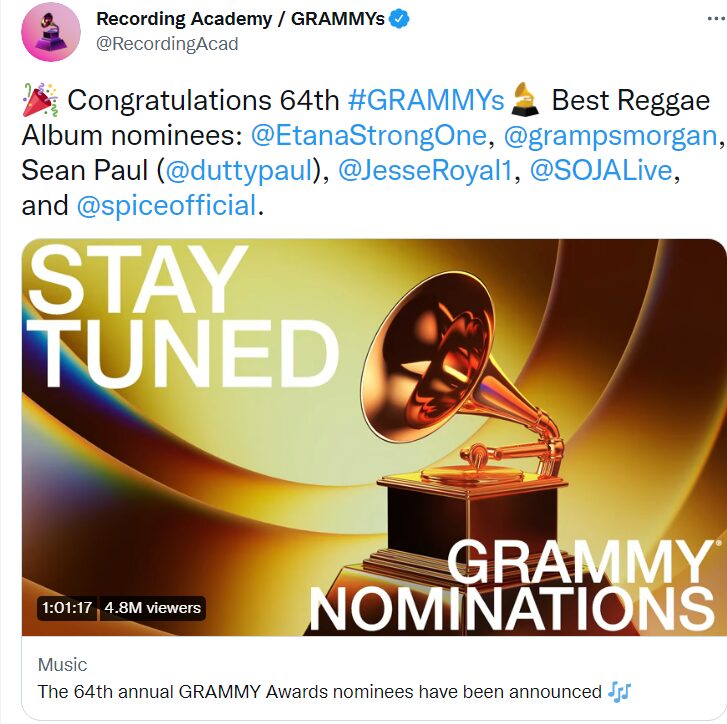 Nevertheless, Shenseea went on her page to announced she was nominated for 4 Awards. She wrote, "Even when I feel low the blessings continue to flow! Who could it be but God? Had to get up out my bed for this one! A Grammy Nomination!!!!!!!!!!! Damn dawg I haven't even released my debut album yet
@kanyewest @masego @majorlazer thanks for trusting me on y'all songs
#ShenYengz thanks y'all".
She also included a photo of the Awards with her photograph.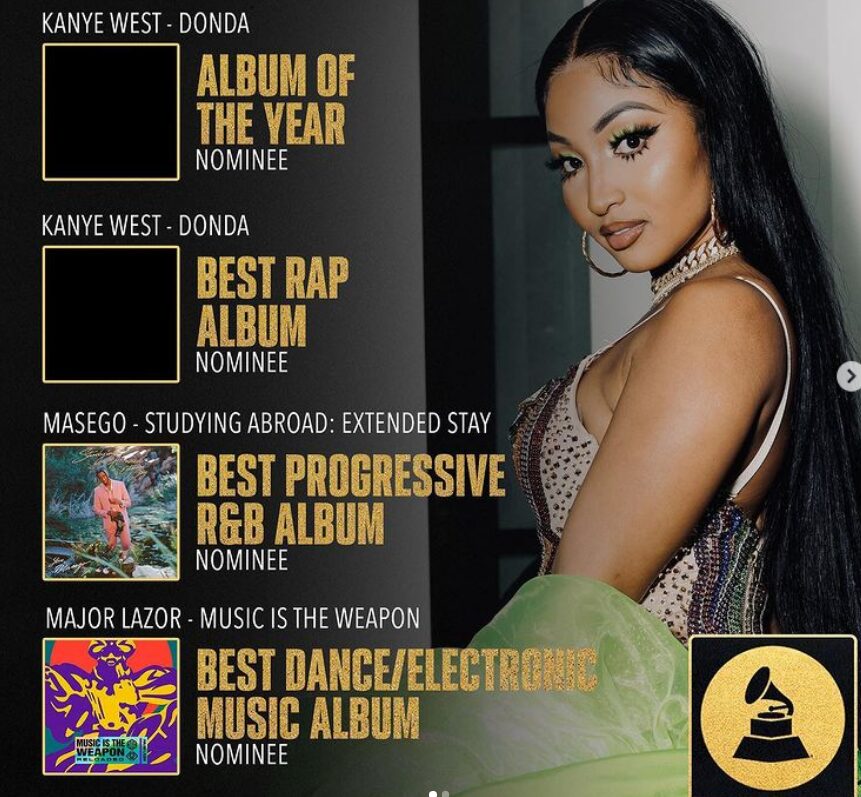 The Jamaican media reported the story and Minister Christopher Tufton and many other congratulated Shenseea. Many on social media were left confused because her name was not included.
The Grammy nominated producer Cristy Barber has now come forward to say Shenseea in fact, not nominated for 4 GRAMMYS.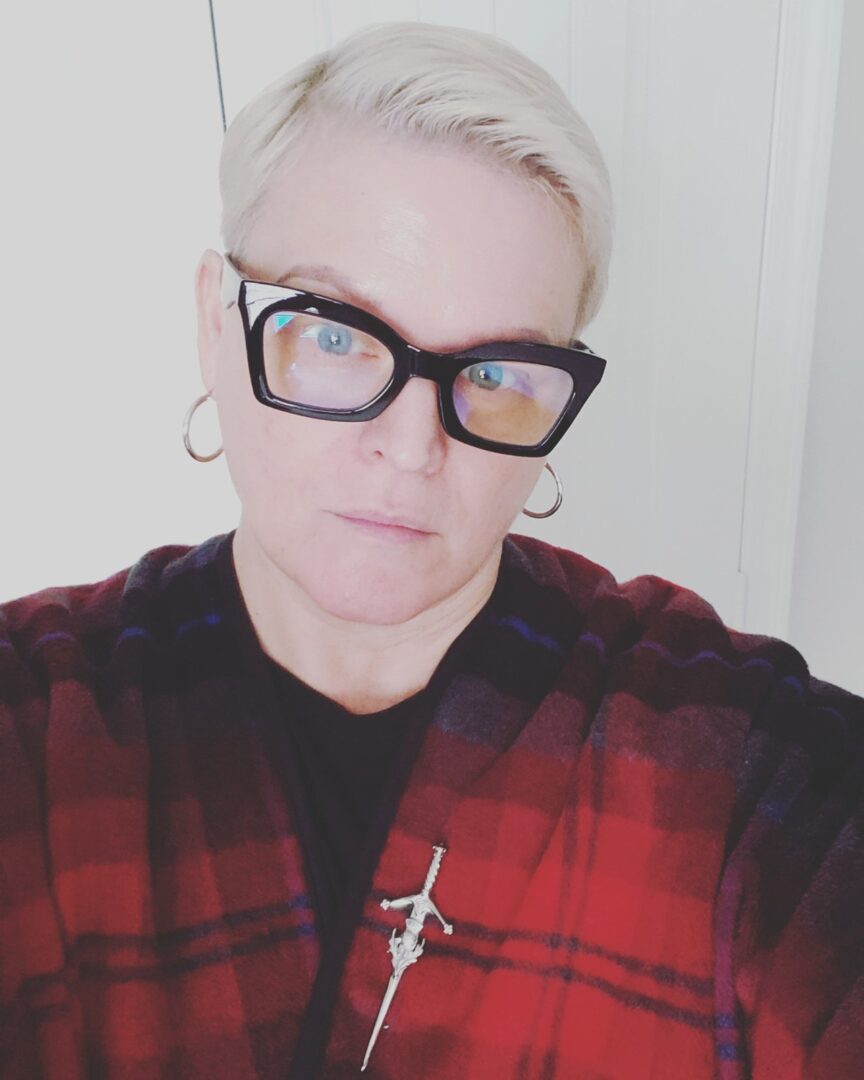 Barber did an Interview with WMV Magazine on November 24th. She answered a number of questions in regard to the upcoming 64th GRAMMY Awards. According to the Magazine, Cristy Barber has been working in the music industry for over 29 years. Her name, 'Grammy' and 'reggae music' are interlinked both locally and internationally. Barber knows every name and face of note in the reggae music industry. She lives next door to grammy nominated singer Gramps Morgan in Nashville Tennessee, with whom she has worked, along with Buju Banton, Beenie Man, The Marley family, Spragga Benz, Beres Hammond. "You name it I have worked with them" she said in an Onstage interview. With Supercat as her first client, she has seen the ups and downs of the dancehall/reggae music business first hand from the days of vinyls and cassettes to now when algorithms get to decide the hits.
I have been in the music industry since 1992 and i have been working with reggae since 1992 and its almost 30 years. I got involved with the recording academy in the 90s when I became a member. I became a voting member in 2004. So I am almost like a unicorn. Very rarely you have somebody that is a voting member nonstop for almost 20 years if not more than 20 years now. I used to be on the Grammy screening committee. I am a part of a very prestigious committee in Nashville now and I became a grammy nominated producer in 2004 when I produced the album Def Jamaica. When I was appointing to the screening committee around that same time is when I realized that there were issues in our categories and I started a voter awareness campaign..just to try to get people to register to vote, just so that we can have more people and the reggae industry actually voting for the reggae album category~Cristy Barber.
Barber explained, no, you are not nominated. In an album category the person who takes home the grammy is the person who is nominated. Which is the artist or the producer who has produced more than half the record. So if you are a featured artist on it you are not a nominated artist, you are on a grammy nominated album. I could say that because I got about 15 different certificates in my office right now from doing work on people's albums that have either won or Grammy nominated so I am not gonna sit up here and write in my bio "13 time nominated" "5 Time winning". I am a Grammy nominated producer, you can go on grammy.com search my name and it pops up. That's the thing that people really get confused with and it kind of annoys me because you are not gonna see Brad Pitt saying academy nominated or award winner unless he was nominated or won and it's the same thing with the Grammy.
According to DanceHallMag, The Recording Academy has made several changes but most of those changes affected the big categories: Album Of The Year and Song Of The Year. Beginning this year, the Academy has stipulated that, if an album is up for Album Of The Year, then all credited featured artists, songwriters of new material, producers, recording engineers, mixers, and mastering engineers who worked on that album are automatically nominated. Previously, the Grammy rule stated that these music professionals had to be credited with 33 percent or more of playing time (on the album), in order to be nominated for that category.
For the genre categories such as Best Rap Album, Best Progressive R&B Album, Best Dance/Electronic Music Album, and even Best Reggae Album, the current rules state that a featured artist or producer must contribute more than 51% of playing time on the album, in order to consider themselves "nominated".
By virtue of the new rules, Shenseea is only nominated for Album Of The Year for Donda. Her three other contributions to Grammy-nominated albums in the genre categories would render her a participant, according to the Grammy guidelines.