New Jersey White Supremacy Threat Level increased from moderate to high
According to the Office of Homeland Security and Preparedness, in their 2020 Terrorism Threat Assessment, Home-grown terrorism is the greatest threat to New Jersey. This threat exceeded any threat from ISIS or Al Qaeda.
The 2020 Threat Assessment see White Supremacy threat goes from moderate in 2019 to high in 2020. Meanwhile ISIS went from moderate to low threat.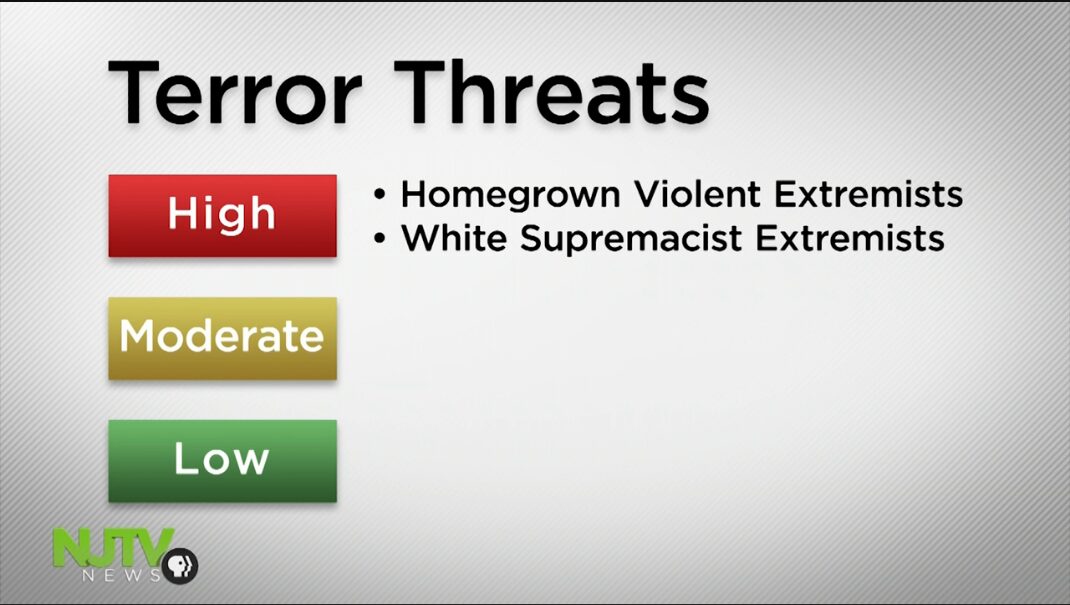 According to the Director Jared Maples, they used special algorism and computations such as geographical locations and threats they are aware of, on groups they are monitoring. They looked at incidents occurred such as bias crimes, bias incidents and attack metrics. There is a specific metrics calculation that they put into it which are tedious and takes a lot of time and effort but are very accurate.
In its annual assessment report, said of the 44 domestic terrorist incidents reported in the United States last year, four had a nexus to New Jersey.
"The ever-changing threat landscape in New Jersey and around the country requires us to adjust our strategies to anticipate new threats while remaining ready to combat those already existing," said Jared Maples.
The report noted the arrest of Richard Tobin of Brooklawn in November, in connection with a plot to attack African Americans with a machete at the Menlo Park Mall in Edison. Authorities also charged that he had connections to a loosely organized neo-Nazi network that calls itself "The Base," which looked to vandalize synagogues in Wisconsin and Michigan.
According to NJ.com, in June, a Sussex County man with alleged white supremacy leanings was indicted on 39 criminal counts — including the possession of an arsenal of weapons and sending his ex-girlfriend's Jewish employer a photo of the woman wearing a Nazi SS cap. Michael Zaremski was indicted on weapons charges and bias intimidation.
And a Salem man who admitted lying about his ties to a white supremacist group when applying for a federal security clearance was sentenced to six months in prison. Fred C. Arena, 41, was a member of the hate group Vanguard America, authorities said.
Earlier this month, the Anti-Defamation League said incidents of white supremacist propaganda distributed across the nation jumped by more than 120% between 2018 and last year. It reported 2,713 cases of circulated propaganda by white supremacist groups, including fliers, posters and banners, compared with 1,214 cases in 2018. That material included screeds of hatred against Jews, LGBTQ people and other minority communities.
According to
CNN
, the report also states that white supremacist groups can turn to violence to create the social change they desire. "Some white supremacist extremists argue that participating in mass attacks or creating other forms of chaos will accelerate the imminent and necessary collapse of society in order to build a racially pure nation," the report states.
New Jersey's report comes just over a week after the Anti-Defamation League found increased white supremacist propaganda efforts across the country.
The number of times hate groups left flyers, stickers, posters and other handouts more than doubled between 2018 and 2019 -- growing from 1,214 to 2,713 incidents, 
according to the ADL.
"We will do everything we can to keep you and your families safe. However, we rely on the public's assistance. I ask all residents and visitors to "See Something, Say Something" by reporting terrorism-related suspicious activity to 1-866-4-SAFE-NJ and
tips@njohsp.gov"
.
Sincerely,
Jared M. Maples
Director, NJOHSP
February 2020