Shaggy: The $100 Million Is In The Bank. Disappointed With Media Article Headline
Shaggy said is he very disappointed and saddened by the Gleaner Headline stating
'Busta' Still Waiting - Hospital Yet To Benefit From $100m Raised At 2018 Shaggy And Friends Charity Concert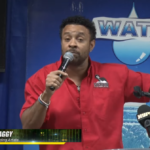 According to The Gleaner article dating November 3rd:
"Almost two years after the successful staging of the biennial Shaggy and Friends concert, the Bustamante Hospital for Children is still anxiously waiting to receive the benefits from the charity event which reportedly raised $100 million".
The concert was hosted by international recording artiste Orville 'Shaggy' Burrell on January 6, 2018 with support from the Shaggy Make a Difference Foundation, which is co-directed by his wife, Rebecca Burrell.
Contacted by The Sunday Gleaner, the hospital's chairman, Kenneth Benjamin, confirmed that neither the Intensive Care Unit (ICU) beds that were to be purchased from the proceeds of the charity event nor the money raised has been handed over.
 Shaggy spoke to Winford Williams Onstage at the Press Conference at the Bustamante Hospital for Children Monday November 11th.
According to Shaggy, the money was always in the Scotia Bank Account. Shaggy went on to say the money has been earmarked for an ICU and they will turn it over to the Bustamante Hospital for Children for this new project which will involve Dr. Kenneth Benjamin. Shaggy did not explain why the money was not been turned over as yet
Nevertheless, he said they never moved the money. They never bring the money anywhere. It was always there. The bank also confirmed the money in the account.
Shaggy said in moving forward he and his team will think how they go about dealing with this issue.
He said it was disheartening as his nine years old daughter came to him and said, daddy, I know why you are going to this meeting, to tell them you do not steal the money. "That lick me hard", Shaggy said.
Shaggy said he was really upset because he had a conversation with the media before the article was out.
He said it could have affected his performance at Disney Little Mermaid so he had to put the issue at the back of his mind and performed for Disney. "It took effort" Shaggy said and there was a lot of people counting on him. They were banking on him, so he had to deliver.
Shaggy said he had to come to Jamaica to address the issue publicly as he could not trust the media to put out the correct information as he spoke to them, yet they printed that headline.
He went on to say when you have this attack on your credibility you cannot help but to be emotional.
The money was not moved. They did not use it for anything else. It was and have been always in the bank.