Jamaicans Ran to Raise Funds for Those Diagnosed with Breast Cancer but Unable to Afford Treatment
As many might know, October is breast cancer awareness month. Countries from all over the world hosted a multitude of activities to support this crucial mission. Throughout the month, you'll find many wearing pink or pink ribbons in support of raising awareness about breast cancer. This morning Jamaica hosted several runs, one being ICWI/Jamaica Reach to Recovery Pink 5K Run.
The pink run which is in its 19th year saw thousands of Jamaicans supporting the event this morning at Emancipation Park in Kingston, Jamaica. Entry costs began at $1000 JMD and the proceeds will help those who are diagnosed with breast cancer and
are unable to afford treatment. Companies and individuals came out early this morning to support this cause. It was an eclectic mix of people, activities, vibes and joy. The support was amazing, and the organizers and sponsors of this run were pleased that so many Jamaicans supported.
"To say we are pleased with the overwhelming support received from our team members, volunteers, participants, sponsors and donors would be an understatement. Each year, we work harder to engage the public in the fight against breast cancer. This year's staging is definitely a testament to the momentous efforts that have been invested by the team," President Lalor of ICWI, title sponsor of the 5K said.
All funds raised, i.e., 100% will be donated to Jamaica Reach To Recovery, which is breast cancer support arm of the Jamaica Cancer Society who provides financial support to persons diagnosed with breast cancer who are unable to afford treatment.
This run also gets a bit competitive among Jamaicans are there are placements. You'll find every year regular attendees training for the number one spot. The overall winners in the male and female open run categories are Henry Thomas and Arieta Martin. Here's what Henry had to say:
"I came out to have some fun as I am just returning from the cross country run
series in London but wanted to show my support for the cause because it is one
that affects so many families.'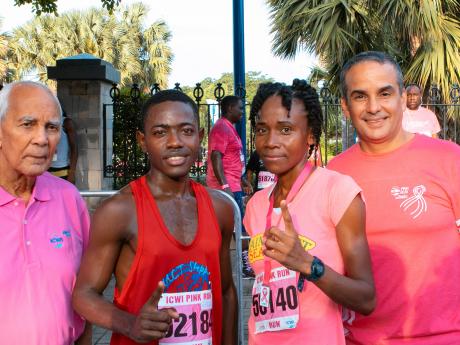 Arieta added, "I came out to have some fun as I am just returning from the cross country run series in London but wanted to show my support for the cause because it is one that affects so many families.' If you would like to help the Jamaica Cancer Society with their ongoing battle against this illness, you can contribute to 'Jamaica Reach to Recovery'. Account Number: 371882545 at any National Commercial Bank (Branch: Matilda's Corner; Account Type: Current Account). Visit their website at http://jamaicacancersociety.org/