Dancehall Artist Cecile Now Children's Author of a book that features a Jamaican mermaid
Kingston, Jamaica:
As the world becomes more diverse so are children's books. Authors are crossing borders and letting children know that they can truly be anything they want to be. Your race, background or any other societal labels doesn't have to stop you from reaching the stars, climbing the highest mountain or conquering the deepest sea.  Cecile Claudine Charlton, popularly known as Dancehall artist Cecile, is one such creative inspiring children to be any and every type of greatness with her upcoming debut children's book, "Oceana Adventures of a Jamaican Mermaid".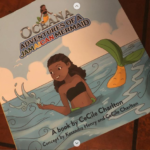 This book features Oceana, a black Jamaican mermaid who is from one of the oldest parishes of Jamaica, St. Thomas. Oceana loves Reggae music and adventures. When asked what inspired her, Cecile replied "I was inspired by the idea that my daughter should have a character that she could see herself in. My friend Kasi and I had been discussing the fact that all the characters the kids look up to or like didn't look like them. I, not only wanted her to see herself in such a character but could also be able to relate to this character in terms of geography and music."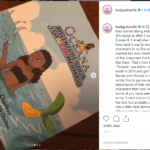 It's no doubt that representation matters and Jamaicans are just not represented well enough in popular books and media. It is no surprise that Jamaican children look up to and adore famous Disney characters such as Elsa from "Frozen" and Ryder from "Paw Patrol". The books that sell out often in local books stores are often international bestsellers. Though there are more books written by local authors now than prior years, there's still much more rooms for fictional stories with Jamaicans being the main characters.
Jamaica Live asked Cecile what impact will "Oceana Adventures of a Jamaican Mermaid" have on Jamaica and the world?
"If the kids are like my child, they will love it along with everything else they know. This is not about excluding them from anything. It's more about including something that's "of them". As for everyone else, I have no idea what the impact will be but I've never dreamt small. Reading taught me from I was a child that you can achieve anything so I am thinking all types of greatness here," she said.
It took Cecile a week to complete this book. However, the ideas swirled around in her head for weeks before she committed it to paper. "Oceana Adventures of a Jamaican Mermaid" will be released very soon and will be available on several platforms. There will be also be branded Oceana items such as swim caps and swimsuits designed by Cecile's daughter, Nana. There's already a t-shirt branded "Rock By Nana" available on Amazon. Follow @badgyalcecile for updates.