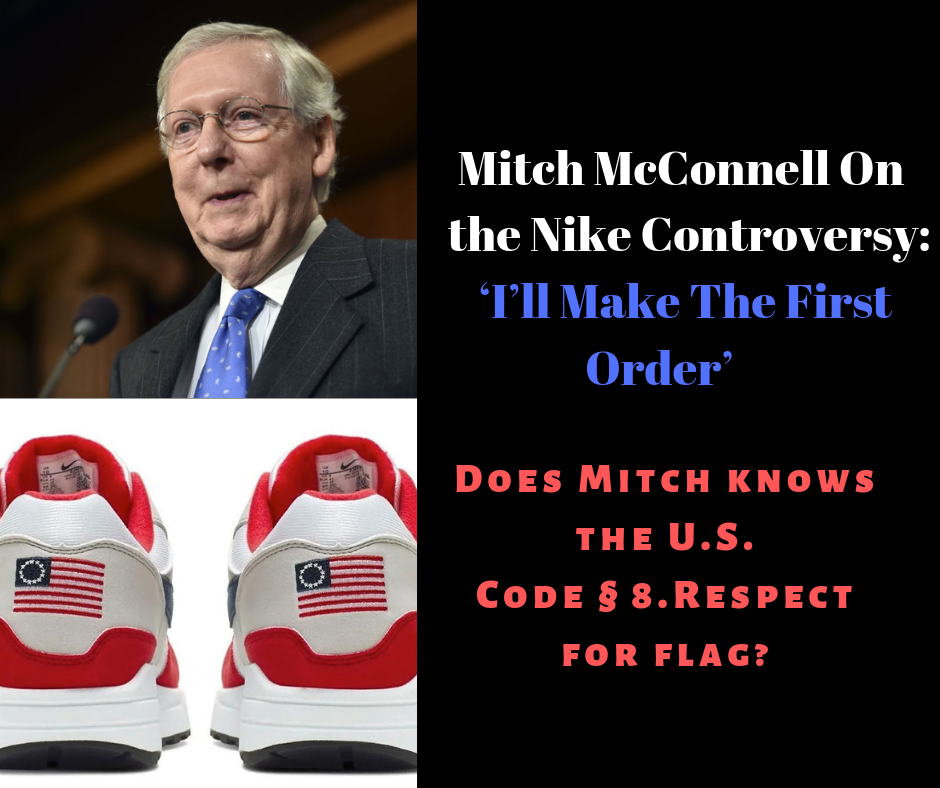 Nike has reportedly cancelled the release of Air Max 1 trainers created for American Independence Day after their design was allegedly labeled offensive by former NFL quarterback Colin Kaepernick.
According to The Independent, the shoes, which featured red, white and blue colouring, bore an early version of the American flag designed by Betsy Ross that has 13 stripes and 13 stars to represent the original US colonies. Concerns over the design were allegedly raised by the sportsman, who fronted Nike's "Just Do It" 30th anniversary campaign, after he saw images of the design online. According to The Wall Street Journal, Kaepernick told the brand he and others found the flag offensive due to its associations with slavery.
The flag in question was created in 1792, at which time the slave trade was rapidly expanding and lawmakers declared that those born into slavery were slaves for life.
Mitch McConnell decided to Weigh in on Nike Controversy, saying. 'I'll Make The First Order'.
The Senate majority leader is calling on Nike to reverse its decision to pull its Independence-Day themed shoes featuring the "Betsy Ross flag."
"If we're in a political environment where the American flag has become controversial to Americans, I think we've got a problem," McConnell told reporters at an event in Lexington, Kentucky, according to the Lexington Herald Leader. "I hope Nike either releases these shoes or some other shoe maker picks up the flag, puts it on a pair of shoes and starts selling it. I'll make the first order."
Does Mitch McConnell knows the 4 U.S. Code § 8.Respect for flag?
McConnell objection to the decision to pull the shoes is about respecting the American flag. Nevertheless, this display of the flag on the shoes actually is in contradiction to the flag's code of conduct and respect. 
According to the Cornell Law School, Legal Information Institute, (d) The flag should never be used as wearing apparel, bedding, or drapery. It should never be festooned, drawn back, nor up, in folds, but always allowed to fall free. Bunting of blue, white, and red, always arranged with the blue above, the white in the middle, and the red below, should be used for covering a speaker's desk, draping the front of the platform, and for decoration in general.
(e) The flag should never be fastened, displayed, used, or stored in such a manner as to permit it to be easily torn, soiled, or damaged in any way.
(i)The flag should never be used for advertising purposes in any manner whatsoever. It should not be embroidered on such articles as cushions or handkerchiefs and the like, printed or otherwise impressed on paper napkins or boxes or anything that is designed for temporary use and discard. Advertising signs should not be fastened to a staff or halyard from which the flag is flown.
Maybe Mitch McConnell should study the code of conduct and respect for the American Flag