Republican Jamaican Immigrant Launched Campaign Attack to Unseat Alexandria Ocasio-Cortez
Scherie Murray is a 38 years old businesswoman from Jamaica, Queens, New York. She migrated to the United States at 9 years old with her parents from the Island of Jamaica.
Murray who is a former state committeewoman of the New York State Republican Party, launched her campaign on July 17, 2019. She is the latest Republican to announce their intentions to run against Rep. Alexandria Ocasio-Cortez for her congressional seat in 2020.
She talks about her "strong record of success" as a state committeewoman. She went on to say, "I've worked across the aisle, I've engaged constituents, elected officials". This she believes, is the differentiating factor between her and the four other Republicans who have filed to run for the seat.
Murray told Fox News Panel and Sean Hannity that she decided to run because she wants to "unite the fight".
She argued that the narrative on the national level needs to be "dialed back", and "that's why I am in the race".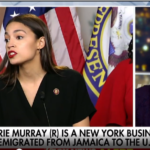 "I would like to represent the Constituents in Queens and the Bronx. We see AOC, from the time she is been elected she put out policy like the job-killing Green New Deal. She then went on to kill the Amazon deal in New York which would have put some twenty five thousand jobs in Queens". Murray emphasized that these are some of the reasons why she decided to run.
Murray told Fox News, Ocasio-Cortez has neglected many issues in New York "fighting for the limelight". She added: "Instead of focusing on us, she's focusing on being famous.
She claims she is here to build bridges and not burn them down. 
Her Policy: She wants to tackle comprehensive immigration reform, infrasture and education.
"I love this country, I know firsthand what it is to work hard ... and it is something that I don't take for granted. I think it is a great opportunity for any immigrant to come to this country and be here in the greatest nation in the world", she said.
"Bridges, they fill our skyline. Rising above our city, their arches are more than stone and steel," Murray says in the video. "They connect us, they help us move forward, and cross from place to place. That's why we build bridges, to be connected to one another."
"I am Scherie Murray, I was 9 years old when I came to America with my family. We migrated from Jamaica....."
"I have been building bridges and crossing them my whole life", she said
"Queens and the Bronx needs someone who will create jobs instead of turning them away. Someone to unite the fight in Washington and help you build a bridge to a better future for yourself, instead of pushing for a pay raise for herself."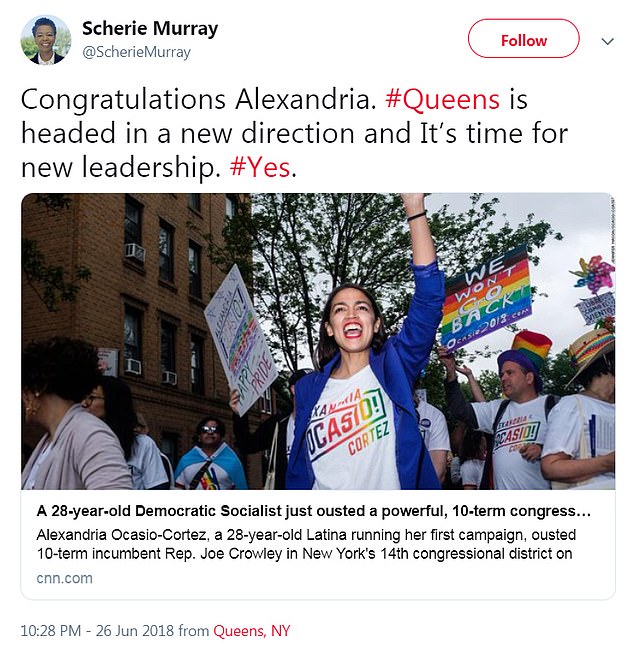 Before the attack on Rep. Alexandria Ocasio-Cortez, Murray congratulated her.
A tweet from June 2018 has now surfaced showing that Murray actually supported Ocasio-Cortez when she congratulated her on her win against the 10-term Joe Crowley.
Murray tweeted a CNN article and wrote, "Congratulations Alexandria. #Queens is headed in a new direction and It's time for new leadership. #Yes," Murray said.
But Murray has since changed her tone. According to a series of tweets, Murray believed Ocasio-Cortez's only goal is to seek celebrity. She also called her politics "toxic."
"There's a crisis in Queens and it's called AOC. She isn't worried about us – she's worried about being famous. That's why I'm running for Congress. Join our movement to #unitethefight," Murray wrote.