Huggies' Historic Move: Black Father & Child on it's Packaging For The First Time
The nappy brand Huggies made an historic move by putting a black family on their diaper labeling.
The move is deemed historic as this is the first time ever the company features a black family.
Huggies Diapers was introduced to the public in 1978. It quickly became one of the biggest brands of diapers in the world. Since its inception, Huggies has exclusively featured white babies and parents. A few days ago that changed. The introduction, uniquely called "Special Delivery" Huggies not only made their packaging black but also featured a black dad and child on it.
This has earned the brand a high number of praises on social media.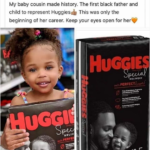 The beautiful girl featured on the package on the size 5 box of diapers is Soraya Lattimore. Chicago model, Orlando Thompson, plays the role of the father. Tori Bridges, Soraya Lattimore's mother stated
"It means a lot especially the representation in society with African American fathers. They're not necessarily out there as much, and this is really changing the narrative. It was just very beautiful, and I was just grateful Soraya was a part of history."
Thompson also commented on the responses he has been receiving on social media. Though not a father himself, he mentioned the stereotype that should have been displaced a long time ago as Huggies also featured dads on their packaging for the first time.
"There's a stereotype that's out there that dads in general, not just a particular race, are not connected to their kids and not affectionate. This should have been displaced a long time ago," Thompson said.
The good news doesn't stop there. Huggies' new premium diaper line is eco-friendly and has liners and waistbands made from plant-based materials, including sugarcane.
According to Huggies, the "Special Delivery" line is free of parabens, fragrance and "elemental chlorine," and "dermatologically tested and clinically proven hypoallergenic". There's also a wetness indicator that prompts parents when it's time to change diapers. Huggies themes this line "our perfect diaper".
Huggies North America brand director, Kristine Rhode, stated that they wanted to accomplish three product goals with this line, i.e, a diaper that gave "superior performance, contained more plant-based fibers, and provided the softest fabric on baby's skin."
She also stated that using a product like sugar cane is "really quite new to the industry when you think about how product materials have evolved." However, "Special Delivery" is not biodegradable and according to Rhode, no U.S disposable diaper is despite their claims.
Huggies "Special Delivery" is available in stores this month.