Japanese Government: No Kim(ono) for Kim Kardashian.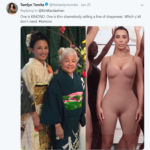 The Japanese government in no simple terms asked Kim Kardashian to reconsider using the name "Kimono" for her shapewear clothing like.
The saga begins 25 Jun 2019 when Kim made the announcement on her Twitter account:
Finally I can share with you guys this project that I have been developing for the last year. I've been passionate about this for 15 years. Kimono is my take on shapewear and solutions for women that actually work. Photos by Vanessa Beecroft.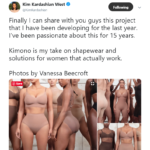 The Tweet quickly drew negative feedbacks with many Japanese telling her not to use the name.
Initially after the backlash, Kim Kardashian tried to ignore the controversy by telling The New York Times she wouldn't "design or release any garments that would in any way resemble or dishonor the traditional garment."
"I understand and have deep respect for the significance of the kimono in Japanese culture," but made no plans to change the name, Kim said.
Among the immediate responses was the Japanese government. They wrote an official response to Kim Kardashian.
In a letter published on the Japanese Today news website, the Mayor of Kyoto wrote:
Ms. Kim Kardashian West
Kimono Intimates, Inc.
I am writing this letter to convey our thoughts on Kimono and ask you to re-consider your decision of using the name Kimono in your trademark.
Kimono is a traditional ethnic dress fostered in our rich nature and history with our predecessors' tireless endeavours and studies, and it is a culture that has been cherished and passed down with care in our living. Also, it is a fruit of craftsmanship and truly symbolizes sense of beauty, spirits and values of Japanese.
In recent years, we see not only Japanese but also many foreign tourists wearing Kimono and strolling around in Kyoto and cities in Japan. It is a proof that Kimono, that we are proud of as our traditional culture, is loved by people from around the world.
We are currently undertaking initiatives nationally to make "Kimono Culture", symbol of our culture and spirits, registered to UNESCO's Intangible Cultural Heritage list. We think that the names for "Kimono" are the asset shared with all humanity who love Kimono and its culture therefore they should not be monopolized.
I would like you to visit Kyoto, where many Japanese cultures including Kimono have been cherished, to experience the essence of Kimono Culture and understand our thoughts and our strong wish.
Yours Sincerely,
Daisaku Kadokawa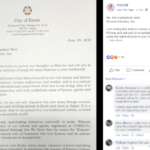 But official response from the Japanese government was too much and Kim fold under pressure. On July 1st Kim fall to the pressure and legal ramblings by announcing she will rename her shapewear line.