President Trump Makes History Steps Into North Korea's DMZ
Donald Trump has become the first sitting American president to set foot in North Korea, Demilitarized Zone after meeting Kim Jong-un
US-North Korea: 
According to the BBC, Mr Trump and the North Korean leader posed for handshakes before talking for nearly an hour in the heavily fortified demilitarised zone (DMZ). Both countries agreed to set up teams to resume stalled nuclear talks. Their last summit broke down in February with no progress on denuclearisation in North Korea.
President Trump is said to have arranged the meeting with the North Korea's leader Kim Jong Un on Twitter on Saturday. They shook hands across the demarcation line between the Koreas before Mr Trump briefly crossed into North Korea, a symbolic milestone.
"Good to see you again. I never expected to meet you at this place," Mr Kim told Mr Trump through an interpreter in an encounter broadcast live on international television.
"This has a lot of significance because it means that we want to bring an end to the unpleasant past and try to create a new future, so it's a very courageous and determined act," Mr. Kim told reporters.
"Stepping across that line was a great honor," Mr. Trump replied. "A lot of progress has been made, a lot of friendships have been made and this has been in particular a great friendship."
The US President had arrived in South Korea earlier June 30th to hold talks with Moon. According to President Trump's Twitter post, his DMZ visit was "long planned". Nevertheless, the meeting with the North Korean leader had not been announced and was unexpected.
After greeting each other, the two leaders briefly crossed the North Korean border and repeated a handshake there. Surrounded by journalists, the leaders then went to the South Korean side where the two parties held talks. The two leaders spoke highly of their meeting, with the North Korean leader calling it a sign of an "excellent" relationship. The leaders' meeting reportedly lasted almost an hour, after which Trump and South Korean President Moon Jae-in followed Kim Jong-un as he returned back to the North Korean side.
Trump told reporters, that they will go inside and talk for a little bit. He went on to say, "a lot of positive things are happening". "Tremendous positivity. Really great things are happening. We met and we liked each other from day 1 and that was very important" Trump said as to looked across and pointed his finger toward President Kim.
The feeling seemed mutual as the North Korea's leader smiled at President Trump. Donald Trump was asked by reporters if he would invite Kim to the White House, which he responded, "I would invite in right now to the White House". He added, "it is a great day for the world", North Korea/ South Korea, it is a great day.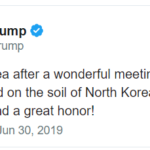 President Donald Trump supporters, they too were elated with the president visit to the Korea's