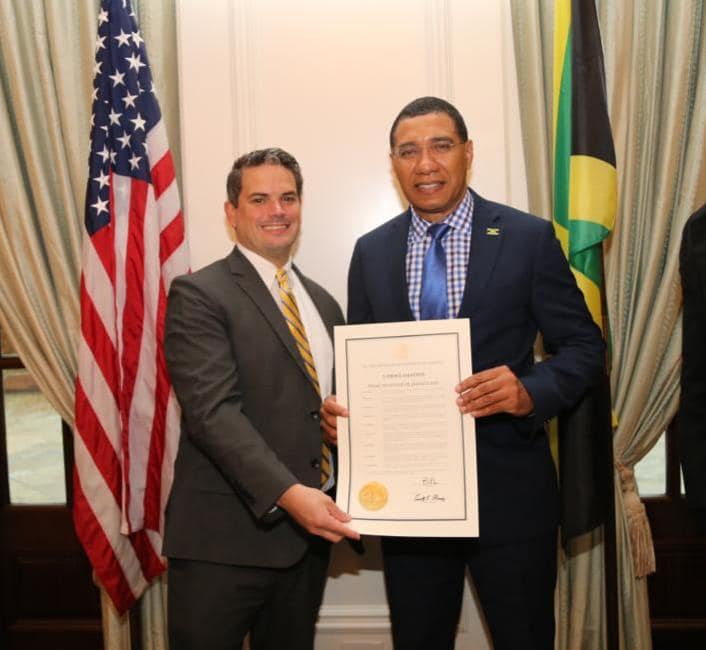 Georgia Governor Brian Kemp declared Andrew Holness Day on "Weed Day" (4/20)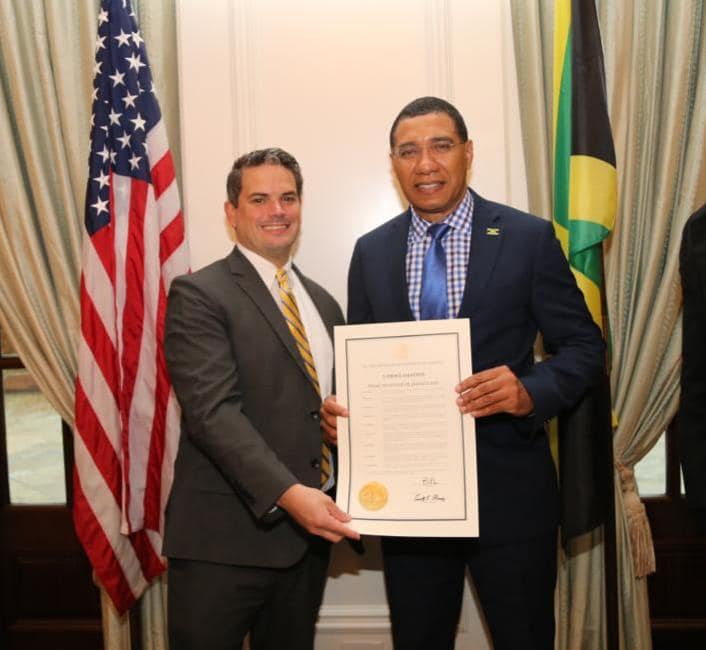 The Jamaican Prime Minister Andrew Holness attended The Business Leaders Forum in Atlanta, Georgia on April 19th.
During that business meeting Mr. Holness met with a number of political representatives and business leaders, including the Mayor of Atlanta, Keisha Lance Bottoms. There is no mention that he met with the current Georgia Governor Brian Kemp but he was presented with a proclamation that declared April 20, 2019 Andrew Holness Day in the state of Georgia.
There are two issues at hand: One is the coincident that Andrew Holness' Day fall on the well known and celebrated 4/20 Weed Day. The other issue is, that he was presented with a proclamation by the controversial Governor Brian Kemp. There are arguments that Holness accepting this proclamation may not be appropriate because of who the governor is.
There are no reports whether this was a planned presentation or not but the irony cannot be lost that April 20 (4/20) is Weed Day. Jamaica is known for its popularity with weed so this is enough to get one's imagination going.
The proclamation was presented April 19 at the forum in Atlanta by Mr. Daryl Moody who represented the Governor.
The other issue: Republican Brian Kemp and Democrat Stacey Abrams was locked in a bitter battle for the 2018 Georgia gubernatorial election in Georgia. Stacey Abrams would have been the first African-American female governor of a U.S. state, had she been elected. She received endorsements from Bernie Sanders, Oprah Winfrey and many other celebrities and politicians who went down to Georgia to campaign for her.
The problem was Brian Kemp was Secretary of State while running for governor.
The Intelligencer wrote: Georgia has a problem. Secretary of State Brian Kemp is running for governor but won't recuse himself from election oversight — a move akin to serving as a "judge in his … own case." The Associated Press reported last week that his office has 53,000 voter registration applications on hold. Almost 70 percent are from black applicants, who are, statistically speaking, likely backers of his opponent, Stacey Abrams.
Rollingout headline: Republican rips Brian Kemp for stealing Georgia governor's election from Abrams :It is one thing to have Stacey Abrams and Democrats outraged for allegedly being robbed of a victory in the Georgia governor's race by her opponent, Republican Brian Kemp. But it is quite another to have one Republican ripping into another for allegedly cheating Abrams out of the governor's seat. Jason Weaver is a former political strategist for former president George H. W. Bush and ex-presidential campaign adviser to the late U.S. Sen. John McCain. This Texas native accuses Kemp of employing illegal tactics to snatch the election from the rightful winner of the race, which he says is Abrams.
"This hack @BrianKempGA is the next 'governor*' of Georgia. But he cheated & undermined democracy every step of the way," Weaver posted on Twitter. "@staceyabrams should be governor, but isn't due to actions that can't be tolerated. She has a bright future. We need a new, enforceable Voting Rights Act. Now! (sic)"
CNN Democrat Stacey Abrams on Friday acknowledged that Republican Brian Kemp will become the next governor of Georgia, ending her bid to become the first African American woman elected to lead a state.
The announcement followed more than a week of post-election legal maneuvering from her campaign and allies as they sought to find enough votes to reduce Kemp's lead and force a December 4 runoff.
Abrams was considering further legal challenges as recently as Friday morning, but ultimately made the decision to end her campaign in a fiery speech to supporters at her headquarters in Atlanta. She did, however, announce plans for a "major federal lawsuit against the state of Georgia for the gross mismanagement of this election and to protect future elections from unconstitutional actions."
Even in acknowledging defeat, Abrams insisted her speech was not giving a concession and instead delivered a series of sharp criticisms of Kemp.
Some are arguing on Social Media that with all this controversy around Kemp, Prime Minister Andrew Holness should not have been in his company or accepted this Award. As explained earlier, there is no evidence that Holness met Kemp. Also, this was a business event whereby this proclamation was presented. One could argue it would be quite rude and discourteous not to accept an award after attending an event when you are the prime minister of a country. Additionally, there are no details on what grounds this award was presented or who made this decision.