IMF approves $4.2bn loan for Ecuador days before Julian Assange was expelled from the embassy
Source: AFP
WASHINGTON - The International Monetary Fund on Monday approved a $4.2-billion, three-year loan for Ecuador, part of a broader aid package to help support the government's economic reform program.
The Washington-based lender agreed to the terms of the financing late last month, and the final approval of the IMF board on Monday releases the first installment of $652-million.
"The Ecuadorian authorities are implementing a comprehensive reform program aimed at modernizing the economy and paving the way for strong, sustained and equitable growth," IMF Managing Director Christine Lagarde said in the statement.
Ecuador will be able to draw on the funds for three years. The loans have an interest rate of 3 percent and a maturity of 10 years, with a four-year grace period. In a statement, Finance Minister Richard Martinez called those terms "unbeatable."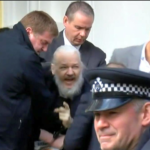 "We've ended the asylum of this spoiled brat," President Lenin Moreno of Ecuador said on Thursday, explaining his decision to withdraw protection of Assange. "From now on we'll be more careful in giving asylum to people who are really worth it, and not miserable hackers whose only goal is to destabilise governments."
Lenin accused Julian Assange and Wikileaks of leaking personal information of himself and his family
Ex-Ecuadorian president Rafael Correa, who granted Julian Assange asylum in 2012, told FRANCE 24 that while they had problems with Assange" that's no excuse for throwing him to the lions."
The former president Rafael Correa claim, current president Lenin Moreno offered up Julian Assange in order to get the loan form the IMF.
He argued that one week after taking office, Moreno had a meeting with Paul Manafort, the former campaign chief of Donald Trump. He claims that during this meeting Morena offered Julian Assange to the United States in exchange for financial support from the United States. He went on the say that Mike Spence visited Ecuador and Lenin Moreno again, offered up Assange in order to get financial support from the United States.
Nevertheless, he claims the final factor why Assange was expelled is because Wikileaks published a very huge scandal. The scandal contains documents of secret accounts, an offshore account of the Morena's family in Panama. He added that Morena is corrupt and the leak documents proved that.
On 26 March, WikiLeaks' Twitter account announced that President Moreno is being investigated by Ecuador's Congress for corruption, sparked by the INA Papers leak. The same tweet referenced President Moreno's attempt to surrender Assange in exchange for US debt relief, a fact that had been reported by The New York Times.