Uchence Wilson gang snitching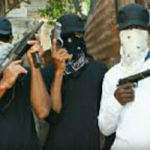 Kingston Jamaica
The trial begins with Uchence Wilson and 23 alleged co-defendants, including two females and two police officers in the Home Circuit Court in Downtown Kingston.
Uchence Wilson 27 years old is the leader of the notorious Uchence Wilson gang.
The allegations are that the Uchence Wilson gang killed, raped, robbed and wreaked havoc in St Catherine, Clarendon, St Mary, Manchester, Trelawny, St Ann and St Andrew.
During a press conference in 2017 Assistant Commissioner of Police Fitz Bailey said, "gang members would force their victims to perform oral sex on each other in the presence of children."
According to ACP Bailey, "the gang seem to be well organized and each member had a specific task during their criminal reign., planning and surveillance of victims and the area. They would also reign terror if any level of resistance was encountered during their lawless activities and these would result in their victims being killed.'
Wilson and his gang is said to amass $400 million from their crime spree across the island, responsible for 12 legal firearms that were reported stolen during 18 different robberies. Two ex-employees of Cashwiz pawn shop in Cross Roads is also charged with buying stolen goods.
Among those arrested are Wilson's girlfriend Shantol Gordon and his second in command Fitzroy Scott and police corporal Lloyd Knight.
They got caught following a major operation by security forces in 2017.
The gang faces a slew of charges including breaches of the Criminal Justice Suppression of Criminal Organizations Act (Anti-Gang Legislation) being part of a criminal organization, illegal possession of firearm, as well as facilitating serious offence by a criminal.
Witness protection and video testimony
Some gang members agreed to corporate to the authorities.
Witness One: The former gang member was testifying via video link from an undisclosed location. 
Witness One: told court that Shantol Gordon came on the scene of a robbery to collect guns in her baby's bag.
Witness One: also told the court Gordon had gone to a pawn shop in Kingston to sell and pawn stolen goods. He insisted that all illegal transactions were done at the Cashwiz pawn shop in Cross Roads.
Under crossexaminaton Witness One insisted "I don't know where you get your source of information from. I did all my pawning and selling in Kingston".
The Gleaner:The witness said that he decided to give evidence against them because they caused him to become homeless and, on one occasion, beat him.
But, under cross-examination, the witness said that robberies undertaken by the gang had been weighing on his mind and that the influence of the Holy Spirit pushed him to give information against his alleged former cronies.
The attorney asked, "What caused your conscience to bother you?"
"If you see man a kick old lady, old man, kick off random people door and a rob and do them all kinds of things, your conscience wouldn't bother you?" the former gang member replied.
Mitchell also asked, "Did the Lord or the Holy Spirit touch you to give statements and evidence?"
The witness replied, "Yes, sir... . The Holy Spirit, sir," adding that his homelessness and being beaten by gang members further compelled him to come forward.
The attorney asked the witness if his conscience had been bothering  him when the gang allegedly robbed his female relative.
The witness said, "That's why I stay outside, because I couldn't bear to see my [female relative] being robbed."
The snitching continues.
Attorney for Uchence Wilson Micheal Howell, a newly added member of his legal team ask judge Fraser for time to familiarize the case for a defense, trial continues daily.